KSKB FM - 99.1 Keep Smiling Keep Believing Serving East Central Iowa since 1988



Morning talk/teaching segments that are streamed:
5:15-6:30; Today in the Word (Moody); Joyce Meyer; David Jeremiah
8:00-8:30; Nancy Le De Moss
10:00-1:00pm: Focus on the Family; Family Life Today; James McDonald; noon: Joyce Meyer; Moody's Midday Connection
Afternoon: 3:30-6:00; Odyessy for Kids; In the Market-Janet Parshall (from Moody)
9:00-9:30 (pm) David Sproul-Renewing Your Mind 10:00-10:30 Focus on the Family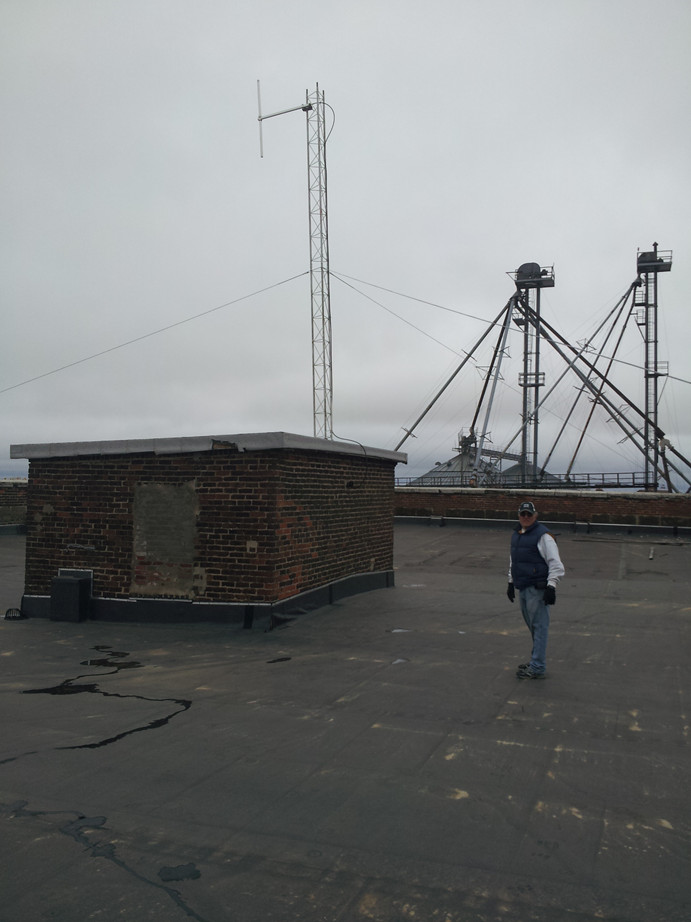 KLOX new (and temporary) Antenna Home - Downtown Creston
It covers the city and at least 10 miles out. JD Warling (pictured) and Jim put it up.

KLOX FM - 90.9 Serving Southwest Iowa since 2005
Also serving Waterloo/Cedar Falls on 99.7 FM (translator) DONATE

KSKB's Phyllis Van Es is back in Grinell and a key element in in KSKB's ongoing operations. Her parents are in assisted care following two years of being in "Phyll's" care.




SPECIAL SALUTE to these KSKB Business Underwriters:

Kilduff Transport - Sully
Dwight's Carpentry - Kalona


Signature Programs:

Thee Morning Drive, Hosts: Larry Linkous, 6:30 - 7:30 AM Monday...Friday
Southern Gospel - Thursday evening
Love Songs for Christian Couples, (jukebox), 6:30 PM - midnight Friday
NIGHTSOUNDS with Bill Pearce is aired 'elevenish' except for Friday nights.
Gospel Jazz, Host: Rich Germaine (gospel jazz); Ernie Lansford (java jazz & praise), 6:00 - 10:00 PM Saturday
Polka & German, Hosts: Frank & Ruth Mlodzianowski, 3:30 - 5:00 PM Sunday
Bluegrass & Folk - After Church Sunday

Mission:

To Exalt the Name of JESUS by Bringing People to Christ through Music and Teaching


Contact:

Telephone: (641) 522 7202
Email: kskb@netins.net
Studio: KSKB, 104 E 2nd Ave, Brooklyn, Iowa, 52211
Fax: (641) 522 7239

Officers & Directors:

Florida Public Radio, Inc. an IRS 501(c)(3) exempt educational organization.
Officers and Directors: Randy Henry,P - Archie Shetler,VP - Carol Henry,ST - Dave Talley,Dir - Betty Evans,Dir


Local Volunteer-Advisory Team: JD & Cathy Warling, Shirley Bair, Phyllis Van Ess, Clair Kuntz, Ernie and Kathy Tomlinson


Here are the organization's owned and operated stations. All are nonprofit/noncommercial.

| | | |
| --- | --- | --- |
| WPIO-Oct-1975 | Titusville, FL | 89.3 7,100 - Watts "We Pass It On" |
| WEJF-Sep-1992 | Palm Bay, FL | 90.3 30,000 - Watts "We Encourage Jesus Followers" |
| WEGS-Nov-1985 | Pensacola, FL | 91.7 20,000 - Watts "We Encourage God's Servants" |
| KREJ-Sep-1990 | Medicine Lodge, KS | 101.7 50,000 - Watts "Kansas Radio Exhalting Jesus" |
| KSNS-May-2000 | Medicine Lodge, KS | 91.5 96,000 - Watts "Keep Singing New Songs" |
| KSKB-Mar-1988 | Brooklyn, IA | 99.1 43,000 - Watts "Keep Smiling Keep Believing" |
| KLOX-Aug-2005 | Creston, IA | 90.9 500 watts - Watts no slogan, just sounds good |
| KNJT-Nov-2011 | Coldwater, KS | 90.9 1000 watts - Watts no slogan, just sounds good |
| KRTT-Jan-2012 | Great Bend, KS | 88.1 900 watts - Watts no slogan, just sounds good |
| WKFA-July-2004 | Saint Catherine, FL | 89.3 3,900 - DA** - Watts "We Keep Faith Alive" |
| WKTO-Jan-1998 | Edgewater, FL*** | 88.9 25,000 - Watts "We Keep Telling Others" |


KSKB reaches Waterloo via 99.7-translator (115 watts)
KREJ reaches Woodward OK, viat ranslator: 97.1

KLOX operates with "main stuio awaiver" meaning that it does not maintain studio facilities in Creston.

You may provide programming suggestions, or request an e-mailed newsletter: KLOX listeners can call toll free to KSKB 866 922 7202


***A sister station serving Volusia & Seminole Counties - Carol Henry, President: Mims Community Radio, Inc.
Not listed: KRTT, Great Bend, Kansas 88.1 and KNJT, Coldwater, Kansas 90.3 (small power stations)